I'm wearing neon.
Okay, so when neon first came around in this decade, this is how I felt about it:
But now I'm more like this: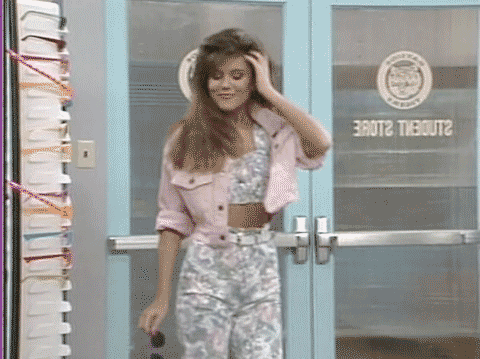 Ok, only a slight exaggeration. I can see the appeal though, especially when it comes
as a $6 tee
. I doubt that I'll buy anything else neon because one item is enough, but I intend to wear the heck out of this shirt this summer.
I guess I should never
say never
. What's next, wedge sneakers?!
Jeans:
American Eagle [
exact
]
Watch: Target
And for
today's moment
that doesn't include awesome Saved by the Bell gifs, the pups and I went over to fellow Madison blogger Dani's for a puppy play date with her adorable dog Walter. We had a a great time hanging out on their beautiful porch, eating, drinking, and chatting about both life and blogging. Dani blogs at
Life's a Journal
and also has an
Etsy shop
where she sells these so smart notepads. She was so sweet and gave me one to try out. I think I'm going to save the majority of them for when school starts but seriously, how smart of an idea is this? It organizes your whole life for you, down to how many glasses of water to drink. If you are interested in trying one out, you can get
10% off your order
with the code FranFan (awesome right?) or you can try to win one with the rafflecopter below!
a Rafflecopter giveaway