medicine
Alkaptonuria is a genetic disease that makes your body unable to process certain amino acids. It is lovingly called black urine because those who have it have brown/black urine. Their eyes and certain cartilage (like of their ears) also tends to be pigmented. Here are a few pictures of these changes (as always, look at your own risk!)
In french, folie à deux means "madness shared by two". It is a type of shared psychotic disorder where the delusions of one person are then transmitted to another, usually between two people in very close relationships like in a couple or between siblings. Here's a short 3 minute video by a psychiatrist who explains it much better than I could!
Intussception is a condition where one part of the intestines folds into another, kind of like a telescope. It can be attributed to both anatomic problems or infections. It always reminds me of this meme: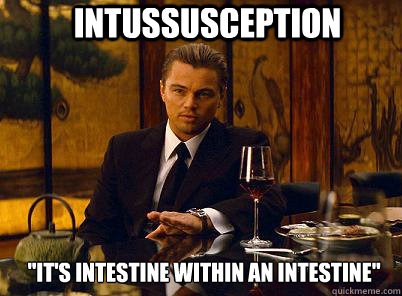 on the internet
Obsessing over a bunch of different things we never knew we needed - this Lilly x Target recap couldn't have been anymore spot on (on target?) if it tried.
I could never be as cool as Jentine, no matter how hard I tried (and her analysis of good colored walls is spot on - those poor non-photographer men in our lives!)
Is your birthday in April? You lucky lady, you!
spotted
How great is this floral + striped shirt ? It does the pattern mixing for you!
I'm going to hopefully be doing a bit of traveling this year, so I think it's probably time to upgrade from my 9 year old $20 suitcase. I'd love to be able to get something like this subdued floral + rose gold hardware suitcase - okay, a girl can at least dream, right?
This dachshund sweater must be mine - MUST! Thank you, Sam, for sharing this find with me!
on franish
on the blog: so many great tips from you guys on how to kick out some of your clothes
on the instagram: my little sister got into the University of Wisconsin! Can't wait to have another Badger in the family :)
on the twitter: more and more every day.
personal
Thank you so much to everyone who has filled out my recent survey. You guys have all been so kind, have left the funniest comments, and given me some really great feedback that I am hoping to implement in the coming months. One of the most requested items was more dog and cat pictures! While they already grace my instagram quite a bit, you can see a ton more of them on my snapchat (@fhasselhof).
We went on a little house hunting trip yesterday and lets just say it was more than unsuccessful, it was down right scary. I'm so nervous that we won't actually find a place to live! It's not exactly the most convenient time currently to find a new place to live, in a different state no less, less than a month before our board exam.
I'm sick :(